Welcome to Jill Nichols Fine Art. Be sure to view all of Jill's paintings listed by genre under the tab at top, "Paintings". If you are interested in acquiring one of Jill Nichols paintings, please contact her. Please note that prints of most images are available. Find out about Jill's upcoming All- Inclusive Italy Painting Workshop & Retreat.
'Phi' headed to the Vatican.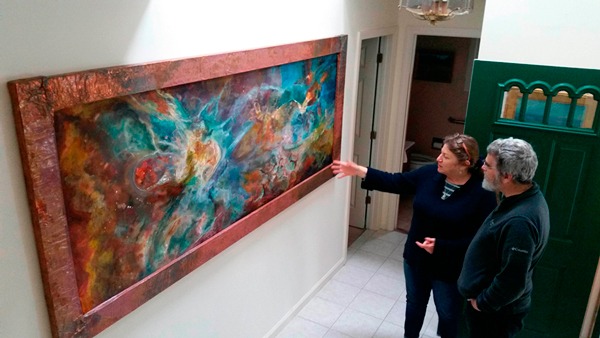 At Left: Director of the Vatican Observatory, Brother Guy Consolmagno, with Jill Nichols and her painting, 'Phi'.
A full-scale print of 'Phi' will be installed in the Vatican Observatory Museum. Based on the Carina Nebula, 'Phi', speaks to the Unity found through the Divine Feminine. READ MORE
Immerse yourself in this all-inclusive 7-day retreat. Paint among olive groves, capturing sweeping views of the sea and hills of Tuscany at your private villa. Learn more: Painting with Jill in Italy, click here.
---
Recent Paintings, available, contact Jill
Exhibited 2017 at the Greenwich Art Society,
100th Annual Juried Exhibition
Juror: Kelly Baum, Curator Modern and Contemporary Collection
Metropolitan Museum of Art, NYC
116th Annual Juried Exhibition
of the New Haven Paint and Clay Club"
Juror, Richard Klein, Exhibition Director of the Aldrich Contemporary Art Museum
Visit cloud blog at right. Clouds, Ruskin, modern painting, and global warming
____________________________________________________
Jill Nichols Paintings, recently sold
"I would love to have Ode to Joy. Consider it sold. I really love the light in your works. It brings me a sense of being there, of the truth of earth and sky, of the beauty of this still lovely world of ours. You have an immense talent.
John and I love choosing those works that please our senses and our souls. You have become a big hit in our home, and it is a pleasure to be one of your "patrons". LP
Exhibited at 'American Waters Juried Exhibition" summer 2017
Lyme Art Association, 90 Lyme St.
Old Lyme, CT
'Cuprous Luna', oil on copper, 11″ x 14″, SOLD
Jill Harrington Nichols Fine Art shared a post.
Jill
A few more paintings from Italy that I just unpacked...
Jill Harrington Nichols Fine Art updated their profile picture.