Welcome to Jill Nichols Fine Art. Be sure to view all of Jill's paintings listed by genre under the tab at top, "Paintings". If you are interested in acquiring one of Jill Nichols paintings, please contact her. Please note that prints of most images are available.
'Phi' delivered to the Vatican.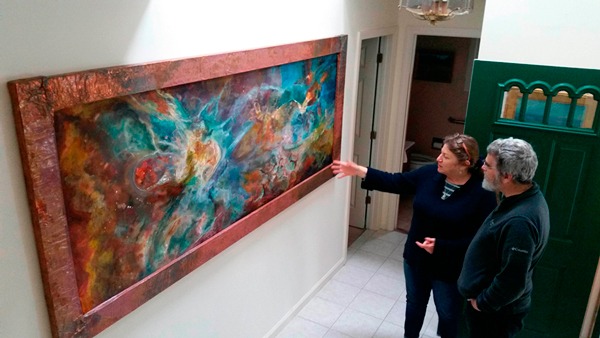 At Left: Director of the Vatican Observatory, Brother Guy Consolmagno, with Jill Nichols and her painting, 'Phi', in her gallery.
A full-scale print of 'Phi' will be installed in the Vatican Observatory Museum.
paintings_Jill_Nichols

Immerse yourself in this all-inclusive 7-day retreat. Paint among olive groves, capturing sweeping views of the sea and hills of Tuscany at your private villa. Learn more: Painting with Jill in Italy, click here.
---
To purchase paintings or prints please contact Jill
____________________________________________________
"I would love to have Ode to Joy. Consider it sold. I really love the light in your works. It brings me a sense of being there, of the truth of earth and sky, of the beauty of this still lovely world of ours. You have an immense talent.